Updated on July 16, 2022
Lion dance-Wedding Toronto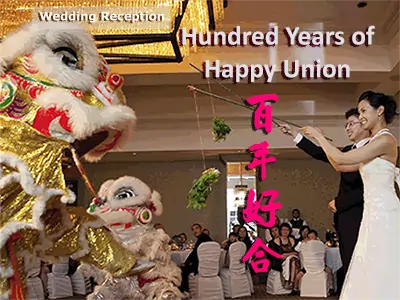 Lion Dance Toronto team can perform lion dance at your wedding event in Toronto and in the Greater Toronto areas: Markham, Vaughan, Mississauga, Brampton, Scarborough, Richmond Hill, Newmarket, Pickering, and Ajax.
Whether it is a traditional Chinese wedding or a modern fusion wedding, our lion dance teams will liven the atmosphere of your wedding.
Peace, harmony and health 百年好合
Introduce Chinese traditions to your wedding event. Chinese believe that the ominous spirit of the lion will bring peace, harmony and health to the newlyweds. Our lions are brightly coloured and will interact with the guests at the wedding event.
We can perform the lion dance at wedding receptions, and traditional Chinese wedding tea ceremonies.
With the well-wishing banner, our lion dance troupe will wish 百年好合 or "Hundred Years of Happy Union" to the newlyweds.
Please contact us for a quote: